On the back of multiple scandals, the latest UK corruption score has fallen sharply, placing it 18th on the global corruption index table. The drop is likely due to recent sackings and the string of enquiries yet to see the light of day. Report authors have made it clear that the corruption score slump is a "powerful indictment of a recent decline in standards in government", adding that "slipping standards are being noticed on the world stage".
One suspects that the PPE controversy and multiple breaches of the ministerial code led to the UK dropping seven places. Azerbaijan, Myanmar, Oman, and Qatar were the only nations also to lose five or more points.
Transparency International compiles corruption scores annually by examining business leaders and expert surveys into perceived public service corruption. Speaking to reporters, the organisation's chief executive Daniel Bruce said:
"The underlying data clearly indicate that business executives and other experts are concerned about insufficient controls on the abuse of public office and increasingly view corruption and bribery as a real issue in Britain."
The latest sackings and scandals did not contribute to the UK corruption score change. One deciding factor may have been the alleged cash-for-seats trading by Tory party donors.
To improve the UK's standing, Transparency International suggested the appointment of an "anti-corruption champion" as well as the removal of conflicts of interest in the awarding of government contracts.
Britain dropped below Estonia, Iceland, and Uruguay to level with Belgium and Japan. Denmark ranked top, with Somalia, South Sudan, and Syria remaining bottom.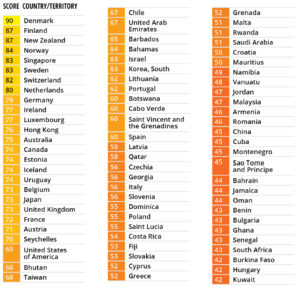 Britain to fare worst out of G7 nations and worse than Russia – IMF
The IMF has added to UK woes by forecasting a 0.6% GDP contraction for this year and singling it out as one of few economies with an outlook in need of downgrading. While globally, economies are performing better following a peak in inflation, the UK is one of the only nations set for a downward trend. The UK's economic difficulties were due to "tighter fiscal and monetary policies and financial conditions and still-high energy retail prices weighing on household budgets," the IMF said.
The fund revised its forecast from a 0.3% growth to -0.6% for this year and 0.9% for 2024. The comments will make it difficult for the Treasury to press ahead with tax hikes as they would place an additional burden on cash-strapped businesses and households.
On the back of the latest IMF forecast, Jeremy Hunt will no longer be able to defend Britain's weak economic performance by claiming that a third of countries were facing equally poor prospects.
Britain's -0.6% GDP predictions make it the worst among the G7 nations. Moreover, even Russia received a far brighter 0.3% growth forecast despite the war in Ukraine and related sanctions.
To put the predictions in context, IMF director of research Pierre-Olivier Gourinchas told reporters at a press conference on Tuesday:
"The UK has a larger share of energy that comes from natural gas, with higher pass-through to final consumers", which has resulted in a "stronger cost of living crisis in the UK".
Reacting to the latest IMF forecast, the Chancellor said:
"The governor of the Bank of England recently said that any UK recession this year is likely to be shallower than previously predicted; however, these figures confirm we are not immune to the pressures hitting nearly all advanced economies.
"Short-term challenges should not obscure our long-term prospects – the UK outperformed many forecasts last year, and if we stick to our plan to halve inflation, the UK is still predicted to grow faster than Germany and Japan over the coming years."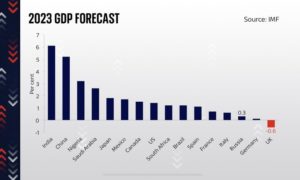 The predictions have sparked much debate, especially among Remainers.
World economy predicted to grow by 2.9% this year
Revising previous forecasts upward by 0.2% from last October's figures, the IMF foresees renewed growth in many countries.
It upgraded China's GDP forecast by 0.8% to 5.2% after the government ditched its zero-covid policies. The US GDP projection rate rose from 1% to 1.4%.