For the government, it was all bells and whistles as the details of round two of levelling-up funding were revealed. The £2.1 billion will go to communities up and down the country. But once again the government has been accused of blatant Tory funding bias as many poorer areas lose out to wealthy constituencies. MPs have accused the PM of "making a mockery of levelling up" as the affluent southeast is in line for a greater share than the East and West Midlands, Yorkshire, and the northeast.
Wealthy constituencies such as Sunak's and Starmer's are to receive substantial funding. 111 different communities will share £2.1 billion. Tory funding bias is alive and well as more than twice as many Tory constituencies benefit as Labour strongholds.
But it is not only Labour MPs who are furious. Tory north and Midlands MPs have accused Sunak of favouring constituencies in the south. One MP told The Times:
"A government that U-turned on a minister for the north is delivering for the south once again."
A second Conservative MP added:
"People are apoplectic. There are some really wealthy areas on the list. It looks awful. It's gone down terribly among red wall MPs."
In England, 80 funding pitches were successful, but only approximately half of the country's 100 poorest areas got a share. Instead, wealthy areas including Malvern Hills, North Somerset, Rutland, and Worcestershire were successful in their bids.
Despite early criticism, Rishi Sunak believes the funding to be "transformational". He will today visit the northwest to publicise the receipt of funding for the area:
"Through greater investment in local areas, we can grow the economy, create good jobs, and spread opportunity everywhere."
Sunak inherited the levelling-up agenda from his predecessor who managed to win a massive majority because of it. Boris Johnson coined the phrase during his campaign and went on to win seats in areas where voters had had Labour representation for generations.
While during Round 1, Johnson also faced accusations of Tory funding bias, Sunak's government clearly shifted funding south.
We crunched the numbers on which regions are benefitting most from the new Levelling Up fund cash.

Round one (under Boris Johnson) compared to round two (today under Rishi Sunak).

Sunak gave more as % to London, South East, South West. Less to North East, Yorkshire, Midlands. pic.twitter.com/krCqGqZXCB

— Ben Riley-Smith (@benrileysmith) January 19, 2023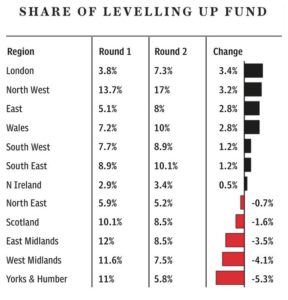 It appears that Sunak wants to leave Boris Johnson's levelling up legacy behind. Government sources revealed that MPs, from here on in, are to replace the phrase with "stepping up" or "gauging up" so that everyone understands.
Sunak will have to remember that the Tory Manifesto promised to "revive our towns and cities" by "levelling up every part of the UK". Tory MPs in constituencies that have lost out and those who believed that this election promise would usher in a new era will be disappointed. Johnson's idea that the government must "get away from the idea" that "all growth must inevitably start in London", flies in the face of the latest funding allocation.
Deprivation levels missing from funding criteria
The methodology by which the government chooses worthy projects has been castigated by the opposition with Labour's Lisa Nandy calling the process a "Hunger Games-style contest where communities are pitted against one another and Whitehall ministers pick winners and losers".
While poverty levels are missing from the criteria list, the government insists on the fairness of the allocation methods. Speaking to The Times, one government spokesperson said:
"All projects were subject to a rigorous assessment process under robust, fair, and transparent rules, with no involvement of local MPs."
When asked by Sky News about the PM's constituency receiving a substantial slice of funding despite its wealth, Michael Gove said:
"I don't think anyone would deny that investing money in making sure that our service families have absolutely the best circumstances to support them… is a good use of money. And if people want to say that service families and that the Catterick Garrison doesn't deserve cash, then let them.
He too insisted that the government operated in line with "objective criteria that govern where money is going".
The government did publish a 1500-word explanation on the allocation criteria, but the decisions lie with ministers. Among Tory MPs in losing constituencies there is a growing sense of dismay toward the government.