A YouGov survey on behalf of Warm This Winter has revealed that 9 million Britons spent Christmas in damp and cold homes. UK poverty remains a major issue, as more than one-quarter of the most vulnerable are unable to heat their homes to a temperature considered healthy. More than 25 per cent of people with underlying health conditions such as asthma are unable to afford fuel while one-third of people with disabilities find themselves in equally dire circumstances. Charities have called on the government to support people struggling with rising energy costs and fix the UK's broken energy supply system.
Warm This Winter, a recently established campaign group, commissioned a YouGov survey to establish the depth of the energy crisis. Results revealed that those suffering from health conditions and people with disabilities are now more vulnerable than ever.
Speaking to End Fuel Poverty, Jonathan Bean from Buckinghamshire said:
"It's a daily battle for my asthmatic son and I to keep our home free of mould and damp.
"We have dehumidifiers and electric heaters running as much as we can afford to, but that still doesn't keep the home any warmer than 12 degrees.
"We even had ice forming inside our double-glazed windows during the recent cold weather.
"Our electricity bills keep going up and while others who are 'off the gas grid' have had extra government support, we haven't."
In total, over nine million people are living in damp and cold homes. YouGov interviewed 2,186 people in the run-up to Christmas. The survey showed that the impact of fuel poverty is a major source of stress and worry. Nearly ten per cent of people are concerned that their elderly relatives may be unable to adequately heat their homes. More than a quarter is worried about the impact of fuel poverty in their local community.
Despite the government's current £18 million spend on advertising fuel-cost-saving tips, 55 per cent of survey participants said that they had already reduced their energy consumption. 15 per cent admitted reducing their heating consumption to the bare minimum.
Speaking to The Independent, Jacky Peacock from the charity Advice for Renters said:
"We used to read Dickens at Christmas with a sense of nostalgia, but now Dickensian conditions are back for those who can't afford to heat their homes this winter."
The charity works to support people who struggle with energy costs in north London.
Fuel Poverty Action's Stuart Bretherton said:
"The political choices of this government are quickly turning this poverty crisis into a public health crisis, which could result in an unprecedented number of deaths from cold and damp this winter.
"This is in a year that profits for energy companies have doubled or even tripled in some cases. With this money, you could end deaths from fuel poverty by making sure everyone could access enough energy to meet their basic needs."
The government's advertising campaign advises people to spend 30 seconds reducing their energy with measures like lowering the washing temperature, switching off lights, and lowering their boiler flow.
UK poverty – thousands expect to be in debt to foot Christmas bill
In a separate survey, YouGov interviewed participants on their Christmas spending and budgeting efforts. With over half of people already lagging behind in bill payments, it comes as no surprise that a significant number of those surveyed anticipate more debts after the festive period. While last year 14 per cent expected their debts to rise, the survey had 22 per cent anticipating their debts to increase because of this Christmas.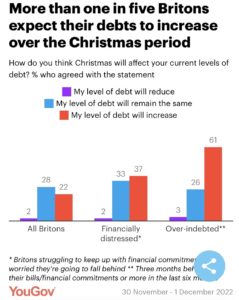 Out of touch Sunak in cringe-worthy encounter with a homeless man
Just how out of touch the government is couldn't be illustrated better than by publicising the video of the PM's chat with Dean, a homeless man.
"Do you work in business?"

"No, I'm homeless. I'm a homeless person."

Excruciating.pic.twitter.com/mtd9pYBOt0

— Angela Rayner 🌹 (@AngelaRayner) December 24, 2022