The Education Minister, Nadhim Zahawi, has dismissed last night's calls by England's Children's Commissioner to outlaw slapping and smacking, saying parents must be trusted to know how to discipline their children.  He added that there was "nothing wrong with a light slap on the arm".
Last night, Children's Commissioner, Dame Rachel de Souza, called on the government to follow Wales and Scotland in introducing a slapping ban. Scotland criminalised slapping in 2020, while in Wales, the legislation has been in place since March of this year. Any adult taking care of children may face criminal charges if found to have been smacking or slapping a child. But the Education Minister has rejected calls for a slapping ban in England, revealing that his wife does, on occasion, give their nine-year-old daughter "a light smack on the arm if she's being completely naughty". Speaking on TalkRadio, Nadhim Zahawi said:
"A light smack on the arm by a parent – I think most people listening this morning won't recognise as anything wrong."
"The discipline of children should be left up to parents … I trust parents. And I think it's much better to do that than have a nanny state."
Last night, the Children's Commissioner said that she "absolutely abhors" violence praising Wales and Scotland for the introduction of the legislation.
Speaking on Times Radio she said:
"I'm against violence of any kind against children. Because children are more vulnerable than adults, I think we do need to ensure that their rights are supported."
"I certainly admire Scotland and Wales moving on this. It's certainly something that I think we should consider."
Responding to Tory critics saying that a slapping ban would constitute an overreach, Dame Rachel said:
"I think we've got a great opportunity to look, watch it, as it's embedded [in Wales], and I would be supportive – certainly, from what I've seen so far – I would be supportive if our government decided to do the same."
Across the globe, 60 countries have a corporal punishment ban in place with England and Northern Ireland among four countries in Europe that do not criminalise slapping. Here's a map of Europe and Central Asia by endcorporalpunishment.org. Light green areas have a ban in place while governments in light blue areas are committed to a future ban. All dark blue countries still allow corporal punishment.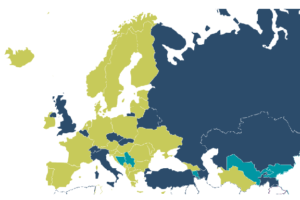 Lancet study reveals link between physical punishment and child behavioural problems
Last year, the Lancelet published research into the evaluation of 69 studies on the effects of corporal punishment and identified seven key elements. Among them, the study showed that physical punishment always increases behavioural problems. Moreover, there is no evidence to suggest positive outcomes resulting from corporal punishment. And, there is a greater likelihood of child protection services having to step in. The research also predicts that the longer a child endures physical punishment, the worse the child's behaviour grows.
Speaking at the publication of the research, lead author, Dr Anja Heilmann, said:
"Physical punishment is ineffective and harmful and has no benefits for children and their families. This could not be clearer from the evidence we present.
"We see a definitive link between physical punishment and behavioural problems such as aggression and anti-social behaviour.
"This is a public health issue. But physical punishment is not only harmful – it also violates children's human rights."
Nadhim Zahawi urges parents to "sit down and communicate with your child"
Insisting that there is a big difference between a "light smack on the arm" and child abuse, the education secretary said on Times Radio:
"Even when that happens it has to be on a very, very rare sort of occasion, and not something we would want to do as parents very often." He went on to urge parents to "sit down and communicate with your child".
The National Society for the Prevention of Cruelty to Children has called for "equal protection (for children) in England". The society commissioned a YouGov poll on people's attitudes to corporal punishment. Over two-thirds of over 18-year-olds don't think it's acceptable to smack or slap a child. On the day the slapping ban came into force in Wales, 64 per cent wanted England to follow suit. The same survey found that 58 per cent of adults believed that corporal punishment was already against the law in England.