Under the new Renters' Reform Bill, tenants have more rights, no-fault evictions are banned, and landlords can no longer discriminate against families or people on benefits. Moreover, tenants are allowed to keep pets, while landlords won't be able to introduce steep rent hikes. The overhaul also stops fixed-term tenancy agreements allowing tenants to remain in a property unless the landlord has a compelling reason to ask them to leave. If a proprietor fails to perform repairs and maintain the property at an adequate standard, tenants are entitled to a rent refund. At present, an estimated 20 per cent of rental properties are deemed unsuitable.
In a statement, Michael Gove said that the sweeping law changes are designed to "redress the balance" between landlords and tenants. At present, an estimated 4.4 million people are living in rented accommodation. Campaign groups have welcomed the proposed changes.
Today, the Department for Levelling Up, Housing and Communities, is publishing its white paper proposing a significant overhaul of private rental rules. The department has said that the reforms represent "the biggest shake-up of the private rented sector in 30 years".
Core amongst the changes is the banning of no-fault evictions, meaning landlords will no longer be able to give tenants notice to quit without a compelling reason. The department is also set to make it easier for tenants to keep pets, as, under the reformed laws, landlords "must consider and cannot unreasonably refuse" permission. The new Renters' Reform Bill will also oblige landlords to maintain properties in good repair so that tenants can live in safe and clean homes with all fixtures and fittings in working order.
Other measures include the outlawing of unreasonable rent hikes as well as the exclusion of families or benefit recipients as potential tenants. The new Renters' Reform Bill will also double the notice period and give tenants the right to leave low-quality properties without being liable for rent.
The government's white paper is also to provide landlords with "greater clarity and support" through the proposed creation of a private renters' ombudsman. Disputes between tenants and landlords will be settled within this new structure thus keeping such disagreements out of court. The bill also maps out a path by which landlords can evict antisocial tenants.
Levelling up Secretary, Michael Gove told reporters before the publication of the white paper:
"For too long many private renters have been at the mercy of unscrupulous landlords who fail to repair homes and let families live in damp, unsafe and cold properties, with the threat of unfair 'no-fault' eviction orders hanging over them.
"Our New Deal for renters will help to end this injustice by improving the rights and conditions for millions of renters as we level up across the country and deliver on the people's priorities."
He also said that the reforms would go some way toward addressing the cost of living crisis.
Renters' Reform Bill hailed as a game-changer by charity groups
Reaction to the blueprint has been predominantly positive. On Twitter, Homeless Charity, Shelter, wrote:
"GOOD NEWS: The government is publishing its proposals for the Renters' Reform Bill today – it's a gamechanger for England's 11 million private renters. Read and retweet our statement on the proposals, as the government pledges to ban unfair #Section21 no-fault evictions."
The tweet was posted alongside this image: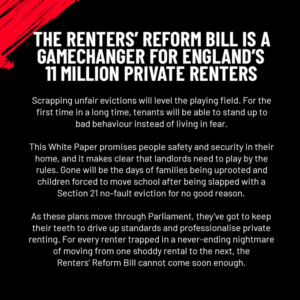 Dame Claire Moriarty from Citizens' Advice said that tenants "need to see these proposals put through parliament as soon as possible".
Generation Rent Director, Alicia Kennedy, expressed concerns over the banning of no-fault evictions:
"Without proper safeguards, we could still see thousands of tenants facing the hardship of unwanted moves, and more staying quiet about disrepair out of fear of a retaliatory eviction. "
Labour urges emergency legislation to ban no-fault evictions
While welcoming the proposed rental rule overhaul, Lisa Nandy, shadow levelling up and housing secretary, said:
"More security for renters is welcome, but action is needed now, not after yet another consultation. While the Government has dithered and delayed, rents and evictions have shot up.
"Labour is calling for emergency legislation to immediately end no-fault evictions and give people more security in their home.
"The Government still has no long-term plan to fix problem of unaffordable rents. In government, Labour will rebalance the power between tenant and landlord to make tenancies secure and affordable, and to give people more control over their homes."